---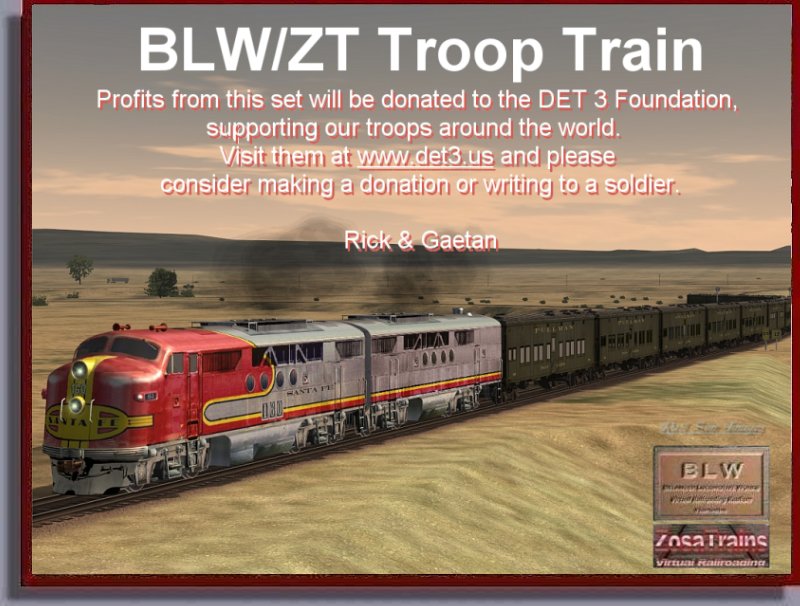 ---
For Veteran's Day
Belanger Locomotive Works and ZosaTrains present
The WW II Troop Train


From Wikipedia:

Between December, 1941 and June, 1945 U.S. railroads carried almost 44 million armed services
personnel. As there were not enough cars and coaches available to meet the massive need for
troop transit created by World War II, in late 1943 the U.S. Office of Defense Transportation
contracted with the Pullman Company to build 2,400 troop sleepers, and with American Car and
Foundry (ACF) to build 440 troop kitchen cars.

Troop sleepers, generally intended for use by enlisted personnel, were equipped with bunks
stacked 3-high, and slept 29 servicemen plus the Pullman porter. Every passenger was provided
with a separate Pullman bed, complete with sheets and pillowcases that were changed daily.
The berths were laid out in a cross-wise arrangement that placed the aisle along one side of
the car, as opposed to down the center. Though the upper berths were fixed, the middle and
lower sections could be reconfigured into seating during the daytime. Weapon racks were
provided for each group of berths. Four washstands (two mounted at each end of the car)
delivered hot and cold running water. The cars also came outfitted with two enclosed toilets
and a drinking water cooler."

The BLW/ZT troop sleepers were created from scratch, using blueprints published in
Model Railroader magazine. Both variations are included, the original with center-mounted
steps/trap doors, the second generation with strap steps. The interior and underframe detail
is included as FreightAnim, so the sleepers can be set up in night configuration (30 bunks)
or day configuration (10 'benches'). There are a pair of cars with the dutch door left open
as well. Five of each type of Troop Sleepers are included, as well as 2 Troop Kitchen cars
(no interior on the kitchen cars).

Troop Sleeper 'Type 1' - #7967 (Blacked out), 7367, 8014, 7363, 8100
Troop Sleeper 'Type 2' - #9645 (Blacked out), 9854, 9949, 9455, 9868
Troop Kitchen – K-100, K-251

Motive Power

There is no direct evidence of diesel powered troop trains, but we felt motive power should
be included. We have a created a new model, the EMD E6, and are also releasing the EMD FT
in Santa Fe 'Warbonnet' colors!

Included in this set:

Baltimore and Ohio E6 (A-B) #57
Baltimore and Ohio E6A #62
Santa Fe FT (A-B) #160
Santa Fe FT (A-B) #161

The B&O E6 units were delivered in 1941, and would have been available, if called upon,
to pull troop trains.
Between April and August 1946 ten A-B-B-A sets, road numbers 158LABC through 166LABC were
removed from freight service and converted to passenger configuration by the Santa Fe.
These locomotives were used in passenger service as a stopgap until enough newer F3 and
F7 types had been purchased to dieselize all major passenger trains. One of the big reasons
for converting the FT's to passenger service was that doing so enabled the railroad to
dispense with helper service over Raton Pass. The dynamic brakes were also useful on the
long downgrade in western Arizona allowing better train handling. Troop sleeper deliveries
were made from 1944-1946, so there is a possibility that Santa Fe 'passenger' FTs hauled them.

Special thanks go to the folks over at Elvas Tower for answers to some technical questions,
Glenn Duba for B&O specific information, and www.railfonts.com for fonts used in this set.

This set is dedicated to those who rode those troop trains in WWII and fought for our country,
and for those who continue to serve.

Specifically dedicated to 1st Lieutenant Benjamin G. Franzosa – US Army Military Police, and
to the memory of Vernon D. Greene, who served in WW II as a Troop Train Conductor.

For the remainder of 2010, profits from this set will be donated to the DET 3 Foundation,
supporting our troops around the world. Visit them at www.det3.us and please consider
making a donation or writing to a soldier.

Rick & Gaetan



BLW & ZosaTrains Locomotive Add-on for Microsoft® Train Simulator.
Copyright© BLW & ZosaTrains. All Rights Reserved.
---
ONLY $ 10.00 USD!!
*******IMPORTANT ******
To immediately obtain your Login & Password for DL, you must click the

button on PayPal's payment confirmation page at the end of your transaction
*** DO NOT LOG OUT FROM PAYPAL, JUST CLICK THIS BUTTON ***
If you bypass that step just send me an email
***********************************************************
ONLY $ 10.00 USD!!


The Pack is available by download Only.

You can contact us at
---
Click the thumbnails below to see production equipment examples!!
All screen shots by Rail Sim Images
BLW © 2010 Belanger Locomotive Works ALL RIGHTS RESERVED
---