---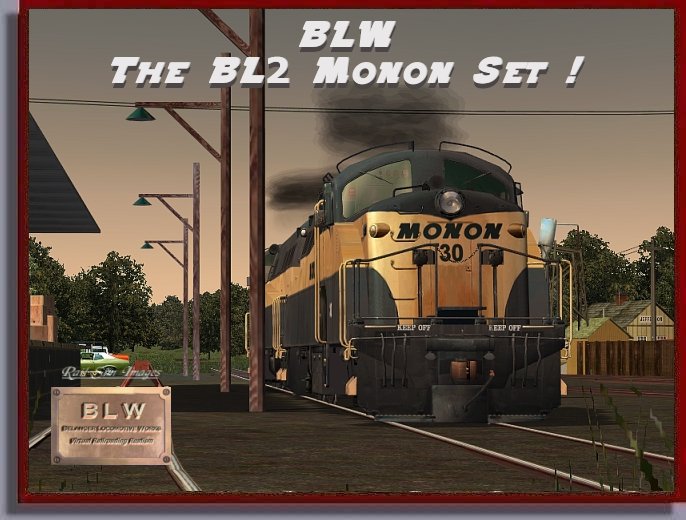 ---
From BLW... The BL2 Monon set !

The EMD BL2 is a four-axle B-B road switcher built by General Motors Electro-Motive Division (EMD).
Often considered the "Ugly Duckling" of diesel offerings from EMD,
the BL2 set the stage for the company's widely successful GP series of locomotives.
This locomotive was sold for both freight and passenger service.
The locomotive's carbody lacked the full-length walkways of subsequent GP diesels,
making it difficult for the brakeman or switchman to move from one point
on the locomotive to another during switching operations.
Finally, although the industrial designers at EMD tried to build a carbody that
evoked high-class passenger trains while retaining the utilitarianism of railroad work,
the visual design never quite became popular.
The BLW BL2 Monon Set include :

4 Engines with the choice of front step up and down for each

Numbers "30" "32" "33" & "38" with 3 different paint schemes

All with virtual view
Custom Cab with night view and custom Sound

We hope you enjoy this new set from BLW!

Gaetan

BLW (C) 2014
---
ONLY $ 9.99 USD!!
*******IMPORTANT ******
To immediately obtain your Login & Password for DL, you must click the

button on PayPal's payment confirmation page at the end of your transaction
*** DO NOT LOG OUT FROM PAYPAL, JUST CLICK THIS BUTTON ***
If you bypass that step just send me an email
***********************************************************
ONLY $ 9.99 USD!!


The Packs is available by download Only.
You can contact us at
---
Click the thumbnails below to see production equipment examples!!
Screenshots by Rail Sim Images taken
BLW © 2014 Belanger Locomotive Works ALL RIGHTS RESERVED
---